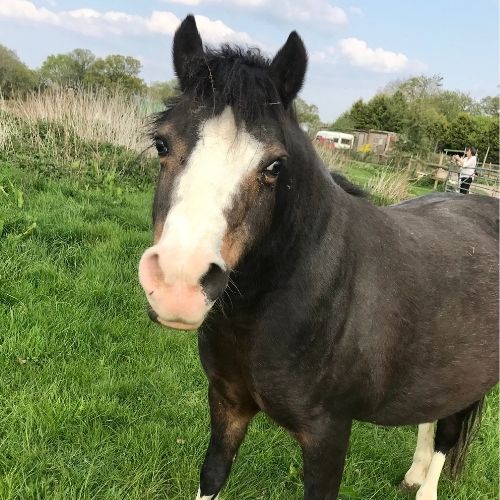 Sophie is the herd leader of the four little ponies.
She came to us as an extreme rescue with extreme abuse that we never discuss.  She has terrified of humans when she first arrived, and we spent hours, days and weeks taking it in turns to just sit in the field so she could see us and know we caused no threat or harm.
The day she finally made her own decision to walk close and take a carrot from one of us was a dream come true.
She is a brave, courageous, beautiful girl who can still be a little nervous, but she nurtures and leads her little herd wonderfully and she is loved and respected by all humans and ponies.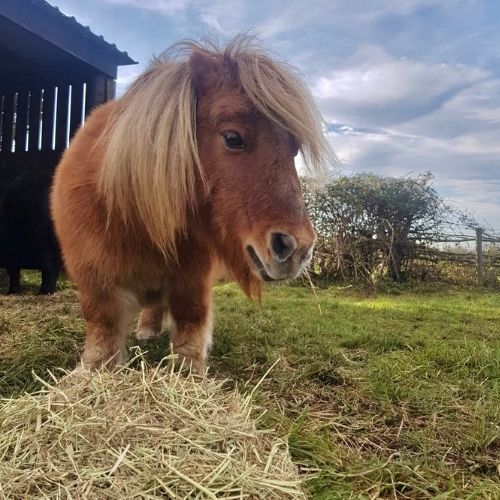 Sunny
Sunny is a small but mighty pony. We rescued him from a lady with ill health who explained to us that he had been born with insufficient bones in his legs which is why he is so tiny. Sunny is not aware of this and is full of life, cheekiness, stubborn, persuasive, comical and gorgeous. His favourite things are carrots, food, playing, his best mate Muffin, having his photo taken and more carrots! We have to keep him out of the mud because of his little legs but he lives a happy, fulfilled life with us and we think he is a superhero and a legend.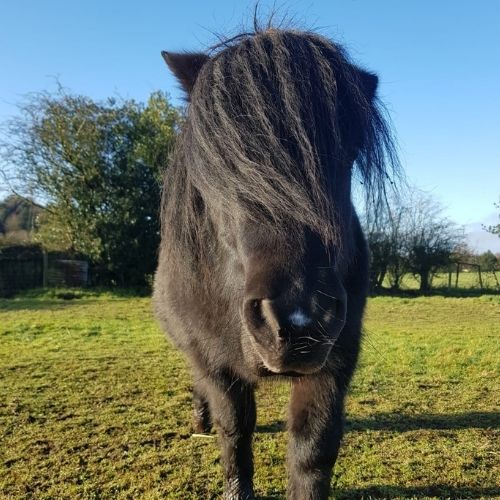 Sapphire
Sapphire is just gorgeous! She is bossy and bold and hilarious.  She used to be used for breeding so came to us with a lot of anxiety.  However, her personality has now blossomed into a gorgeous happy girl who knows what she wants and likes to express herself by usually telling the boys off and asking us for more carrots.  She has naturally helped some humans who have visited us, and she is a natural healing pony.  She is remarkable.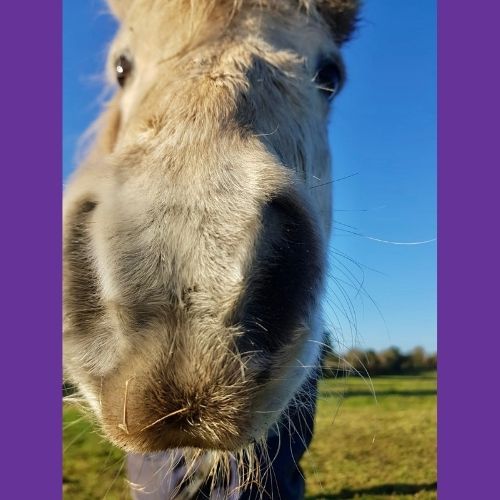 Muffin
This beautiful little boy came to us aged eleven as his human mom could no longer cope with him as she was nursing her terminally ill husband. She had had him for 10 years and loved him dearly. When he first came to us, he was quite poorly especially with his feet and we did a gentle detox and cleanse of his gut to help him detox, be pain free and his little body returned to balance. As he was
so small, we had to keep him on his own while he was recovering. Once he was well, he kept trying to break into the other field with the large horses. However, as he had lived on his own all of his life he didn't appear to be "Field-Wise" (streetwise) so we didn't think it was wise to merge him with our giant horses. We asked the Universe for help and magically a week later we were offered little pony Sunny. We introduced them and they became bestest buddies instantly and they have many cheeky adventures together. Since then we have also rescued two girl ponies, Sophie and Sapphire and we can see Muffin thriving now that he has his own little pony family. He is a cheeky, happy boy.