What's coming up at The Healing Horse Sanctuary…
Summer Wellbeing Fete, 14th August 2022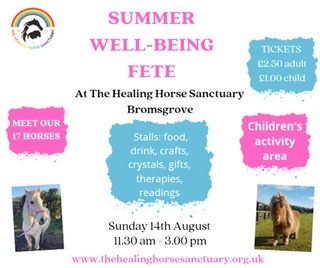 SUNDAY 14TH AUGUST
11:30 – 15:00
ADVANCE BOOKING ONLY
Our Summer Wellbeing fete is going to be packed full of lovely things to do for adults and children!
Firstly you can visit our 17 rescued horses and ponies!
Secondly, you can visit many wonderful stalls and activities, all designed to enrich the mind, body and soul.
We have lovely stalls from small businesses selling things such as:
Crafts
Crystals
Hand made chocolates
Home cooked Indian food
Non alcoholic cocktails and wines
Natural cosmetics
Upcycled furniture
And therapists offering:
Hand massages
Reiki treatments
Hypnotherapy
Coaching
Card Readings
As well as the charity doing:
Tea and cakes
Raffle
Tombola
Charity merchandise
AND a children's activity area, with lots to do and learn!
This is an outdoor event in one of our lovely fields and is a fundraising event for our horses at The Healing Horse Sanctuary who do amazing therapy work for children and adults.
It will be advance bookings for tickets
£2.50 per adult | £1.00 per child
We are in Burcot, Bromsgrove and will send full details of address and car park with your ticket numbers.
It's going to be lovely!
Love and gratitude,
All at The Healing Horse Sanctuary xx
Tea & Cake with The Horses, 17th July 2022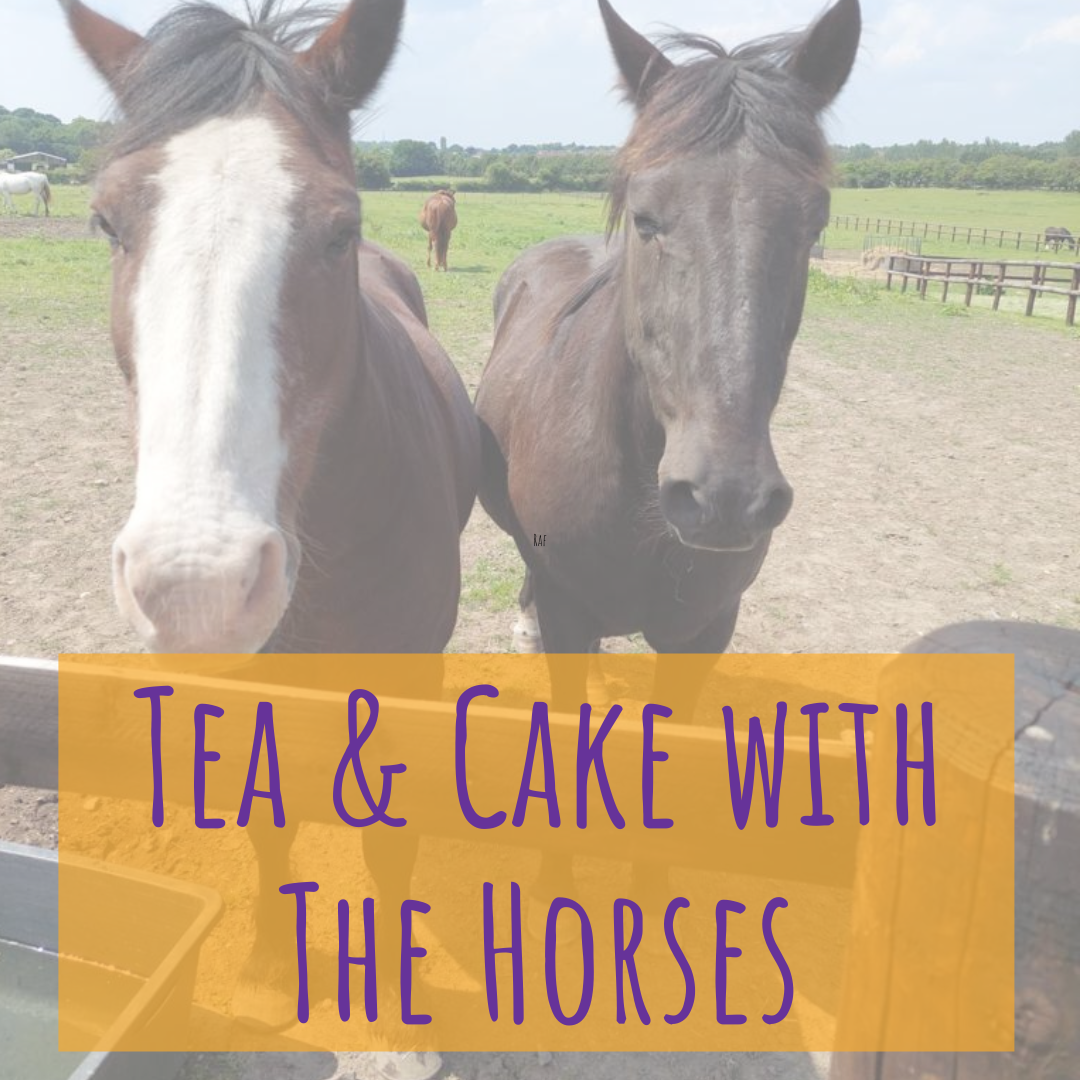 Tea & Cake with The Horses!
SUNDAY 17TH JULY 2022
12noon – 2pm
ADVANCE BOOKING ONLY WITH LIMITED PLACES AVAILABLE
Now the Summer is officially here we are going to have many more events!
So come join us at The Healing Horse sanctuary to meet our beautiful healing horses and be in the gorgeous energy of our new sanctuary location in Bromsgrove!
Enjoy a cup of tea and a cake while relaxing in the sunshine watching our horses, ponies and chickens.
You can even bring your own picnic if you wish!
£5 per person (adult or child)
This includes admission into the sanctuary and a free slice of cake and a cup of tea.
Car parking will be in our far-field and we will send the address with the ticket numbers via email after check-out.
You can then park up, walk into our sanctuary, and meet Ruby's herd with Ruby, Michael, Max, Ringo, Louie, Dodger and Charlie.
Then meet the 4 little ponies Sophie, Saffie, Muffin and Sunny
And then at the top will be Daisy and her herd too, Daisy, Bailey, Bobby, Oscar, Pearl and Chester.
As well as our lovely chickens Margorie, Barbs and Dottie.
It will be a lovely couple of hours spent in nature, with lovely animals, lovely people, lovely weather and a lovely cuppa and cake!
You can even buy one of our new horses mugs, key rings, fridge magnets or soft toys too AND have a go on our raffle and tombola!
What a lovely day it will be!
Buy a Pony an Easter Breakfast!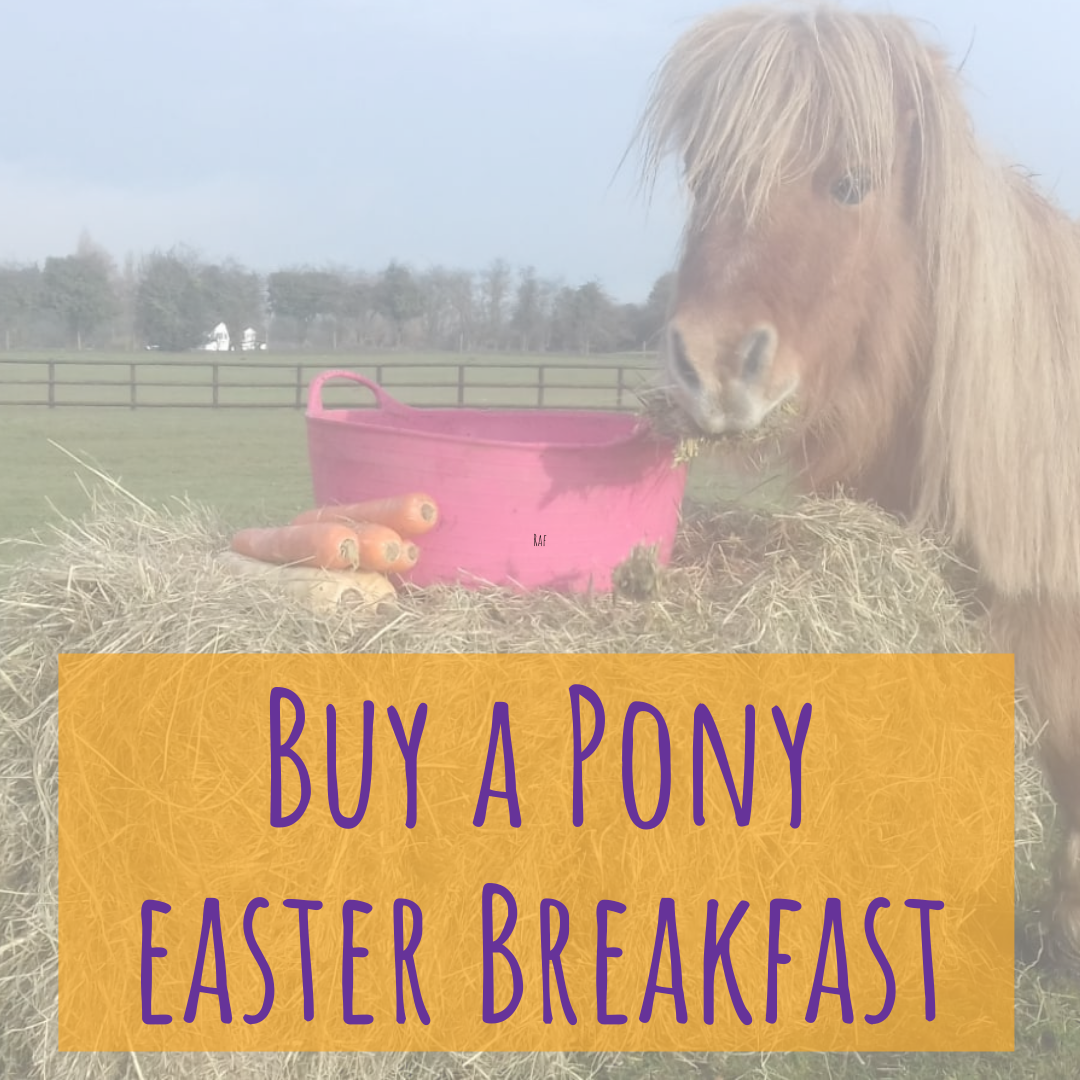 Would you like to buy a special gift this Easter, and help one of our rescued ponies in the process?
Well, we are offering people the chance to buy one of our horses or ponies the gift of a delicious Easter breakfast – some tasty carrots and a mini bale of hay – yum yum!!
It's just £5 per pony 
Take a look at our gorgeous ponies, Sophie, Sapphire, Muffin and Sunny, all enjoying their buckets of delicious breakfast (organic chaff, meadow nuts and vitamins) with a side order of carrots and a bale of hay to last them the day!
We have 18 horses and ponies so you can choose who you would love to gift Easter breakfast to on Easter Sunday, 17th April – or buy more than one pony a breakfast if you wish!
Here are our horses and ponies to choose from -:
Sophie | Muffin | Sunny | Sapphire
Or
Daisy | Bailey | Bobby | Oscar | Pearl | Chester
Or
Ruby | Louie | Dodger | Max | Ringo | Michael | Faith | Charlie
Happy Easter to you!
Love The Healing Horse Sanctuary xxx
Stay In Touch!
Every month, our volunteers send out a sparkling newsletter letting everyone know how we horses are doing, what mischief we've been up to and keeping you in the loop about how our fundraising is going!
We also send out special invites to our upcoming events! If you'd like to hear all about our antics, pop your details below and we will be sure to include you in the next newsletter we send out!
Please know, your personal information is very important to us. Horses and ponies don't like spam either, so we'll never send you any! Nor will we share your details with anyone else. You are always free to unsubscribe at any time if we no longer make your inbox a sparklier place!